SEATECH's office is strategically located near the main port complexes: Vitória (Capuaba, TVV, Commercial, Peiú, Paul), Tubarão/TPD, Praia Mole, Barra do Riacho (Portocel), and Ponta de Ubú (Samarco).
SEATECH has also been operative at other Brazilian Ports, such as: Macapá, Recife, Suape, Salvador, Aratu, Rio de Janeiro, Sepetiba, Angra dos Reis, Santos, Piaçaguera, Paranaguá, Antonina, Itajaí, Imbituba etc.
SEATECH also attends in Argentina: Up River, San Lorenzo, Las Palmas, Necochea, Bahia Blanca, San Nicolas, Rosario, Zona Comum
SEATECH can attend to surveys with it's own staff and/or, by the appointment of experienced and reliable correspondent Inspectors at all Brazilian ports and inland cities, when requested.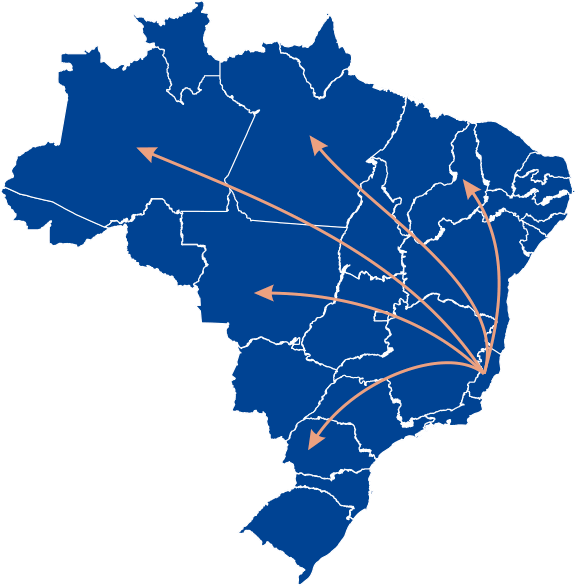 MANAUS
MACAPA
BELEM
ITAQUI
FORTALEZA
NATAL
AREIA BRANCA
CABEDELO
RECIFE
SUAPE
MACEIO
SALVADOR
ARATU
ILHEUS
BARRA DO RIACHO
TUBARÃO
VITÓRIA
RIO DE JANEIRO
SEPETIBA
NITEROI
ANGRA DOS REIS
SÃO SEBASTIÃO
SANTOS
PIAÇAGUERA
PARANAGUA
ANTONINA
SÃO FRANCISCO
ITAJAÍ
IMBITUBA
PORTO ALEGRE
RIO GRANDE
PORTO VELHO
CURUMBA
Up River
San Lorenzo
Las Palmas
Necochea
Bahia Blanca
San Nicolas
Rosario
Zona Comum